Boarding
All pets must be up to date on vaccinations including DHLPP, Rabies and Bordatella.

Boarding Drop off and Pick up hours, 7 days a week.
7:30-12:30
2:15-6:15
Holiday hours my vary.
Closed on Christmas Day
Pick ups before 12:30 will not be charged for the day.

Please ask about our Pick up and Delivery Service!
We also offer $10 referral bucks! Please have your friends and family mention your name when booking!

We are located conveniently or I 65 , just on the outskirts of Clark State Forest. Your pet will enjoy a private and relaxing home away from home while you are away!
COMING SOON
We are so excited to announce that our new pet resort is now in the works! On top of our already fabulous facility we will be offering a new resort style facility offering luxury suites and apartments , including WiFi cameras available upon request to observe your pets while away... currently Hoping to be completed mid November .
New Kennel image tentative opening Thanksgiving!!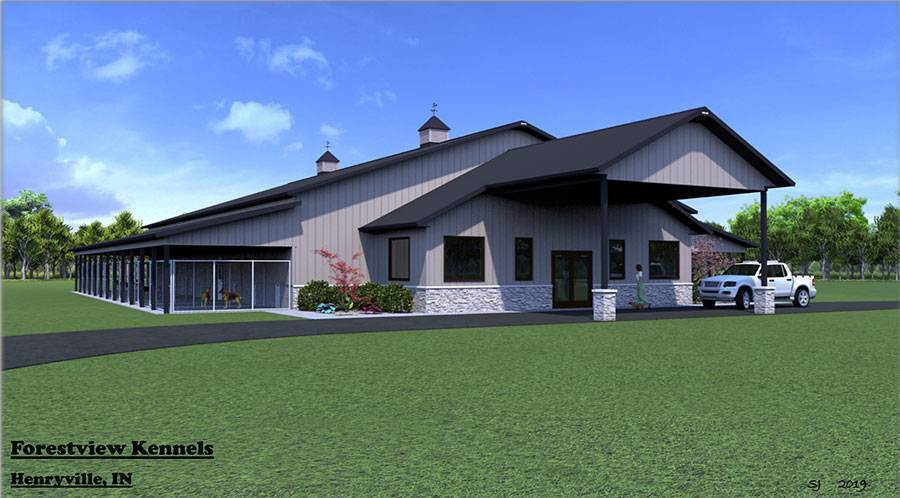 Boarding Rates:
Small dogs (under 20 lbs): $20
Medium (20-40 lbs): $22
Large (40-60 lbs): $25
X-Large (60+ lbs): $26


Additional Services:



Yard Time 20 min:

$5


Nails:

$10


Ear cleaning:

$10


Exit Bath INC nails, ears and glands:

$30-$50

Sanitary Grooming and Full Groom also available, Rates vary depending On Pets size, coat type and Condition.

Our facility is completely climate controlled, individual runs with raised beds.

All dogs also have individual outdoor runs, completely covered to protect from the elements.

We feed Pro Plan Sport and Focus. We add a quality canned meat mixed mixed with warm water. We will gladly feed your own food as well. Please send in a marked container with your name as well as your pets name, and amount per feeding.
CONTACT INFO
Contact us directly thru the contact section of our site for reservation requests OR Call the kennel at 812-967-8391, or text 502-767-3324.
We accept Cash, Check, PayPal, Visa, MasterCard and American Express
CONTACT US:
Forestviewkennels01@aol.com
Telephone: 812-967-8391
Text: 502-767-3324